Simply the best: Exercises for Skiing and Snowboarding
Wake Boarding and Water Skiing
Ultimate Guide
Pro Exercises
These exercises are Pro.
Lets get started:
How to do these exercises
Watch the Gifs
Read the instructions.
Don't get hurt.
Bring it like a boss.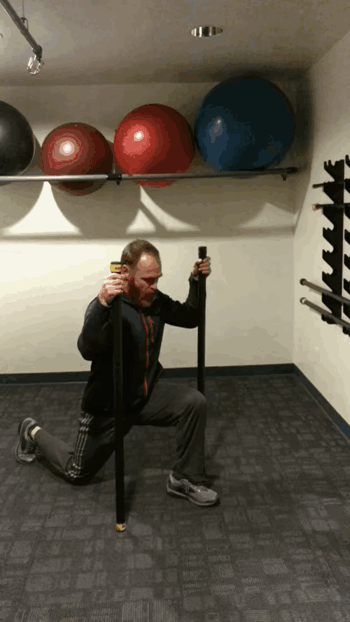 Poling lunges
with body bars
What it works:
Similar to standing up with ski poles, this exercise helps prepare is for the slopes
Who its for:
Pros:
Practice this at home (or in the gym) and you'll get far less tired on the slopes especially if you're falling down and standing back up
Cons:
Can be tough on people who have pre-existing knee pain
What it does:
Makes getting up with poles much better
How to do it:
As per GIF

make sure you work both legs the same amount of reps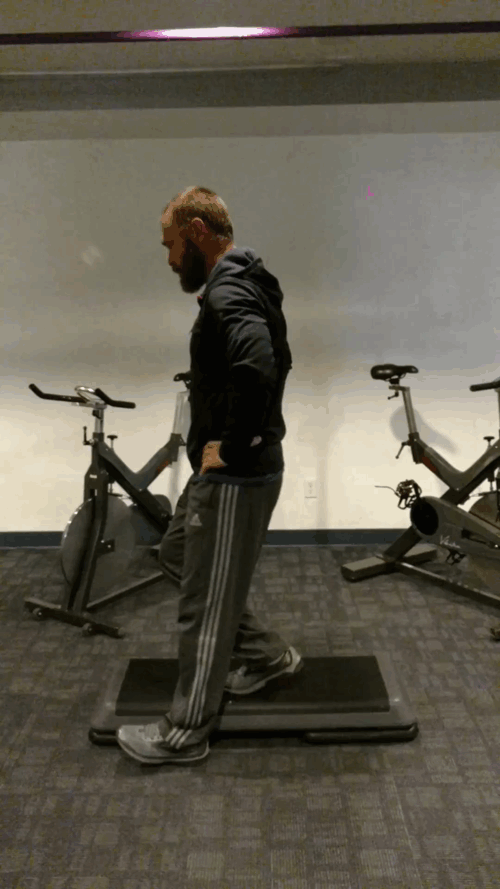 Peterson Step-Ups
What it works:
One of the most important muscles for knee stability is called the VMO: vastus medialis oblique.
Who its for:
Everyone who skis and snowboards

…except people who have preexisting meniscus or ligament damage in the knee
Pros:
Help stabilize the knee

Keeps us from falling (somewhat)

Helps prevent several types of common knee injuries that occur during snowboarding and especially skiing
Cons:
This exercise is not safe to do for people who have pre-existing meniscus and or ligament injuries in the knee: if your meniscus is damaged or missing do not perform this exercise

This is actually a very technical exercised that's difficult to learn and do
What it does:
By strengthening the primary muscle controlling knee stability, the vastus medialis oblique, this exercise helps us perform better in all leg strength sports including winter sports such as skiing and snowboarding

This exercise is Pro: it's commonly performed by the world's fittest and winningest athletes under the supervision of exceptional strength coaches
How to do it:
As per GIF

Note that the left leg moves forward and the left foot moves ahead of the right foot

Note that the left heel touches the ground but the left toes do not

Note that the right knee moves forward as the left foot moves forward

Note that the right heel comes up in the air and all of the weight is on the toes as the left foot moves forward and down

The right foot should be rotated about 30 degrees away from the left foot

perform the same number of reps on both legs: usually 8 to 12 reps, two to four sets
I almost didn't include this exercise because it's so hard to teach via a web page (it's much better to teach and demonstrate it in person, with my clients) but it really is the best and possibly most important knee strength exercise that I know.
Surfer squats
On a bosu ball.
What it works:
the legs, plus helps train the muscles that are engaged when we're doing stunts and tricks
Who its for:
Snowboarders who want to do tricks
Pros:
It's a fun and cool exercise
Cons:
Doesn't help much with skiing
What it does:
Helps with snowboarding tricks mostly
How to do it:
As per GIF

be sure to work both sides evenly
180° and 360° squat jump twists
What it works:
All the twisty muscles that are used during stunts
Who its for:
Trick snowboarders and occasionally, trick skiers
Pros:
Works all the muscles that we use during these stunts
Cons:
It's not exactly the same as when we are on a snowboard

when we do a 180 jump on a snowboard we land on a slippery surface and have to stabilize thewhen we

When we do a 180 jump on the floor we land on a hard surface that suddenly stops

so it's not exactly the same as when we were on the snow with our board, man

also this exercise is kind of tough on the knees. So don't overdo it.
What it does:
Helps us bust a move on the slopes
How to do it:
As per GIF

6 reps, 3 sets is usually enough
About this page:
Tucked into the mountains of far northern California (in Shasta County), is the city of Redding. This is where Dale Maynor is a personal trainer, teaching group exercise and fitness. Dale can be found on his Facebook fan page or teaching clients and classes at the Shasta Family YMCA, or the City of Redding Parks and Rec, and more.